Reclaim Your Inner Fire - A Journey Through the Elements
ABOUT THE RETREAT
Retreat to Belize and the island of Ambergris Caye to restore equanimity in body, mind and spirit. Find rest, create balance and nourish your soul, all while immersing in the stunning beauty that surrounds you. The elemental body will awaken as we journey through Earth, Water, Fire and Air as the week unfolds, leaving you ready to return with a renewed sense of empowerment.  
ABOUT THE LOCATION
Nestled along the glittering white sand beach and the Caribbean Sea, our host, Las Terrazas Resort, promises pure bliss.  Lounge under a swaying palm tree, relax in their 70 foot infinity pool, indulge with a soothing massage on the beach or paddle a kayak over the island's crystal clear waters. 
ABOUT YOUR TRANSFORMATION
You will learn: 
1. How to utilize rituals in your everyday life to elevate the importance of simple things and to bring you peace, especially during times of uncertainty.   
2. Your personal "battery boosters" like passion, purpose and the power of forgiveness.
3. How to change the limiting beliefs that may be holding you back. 
4. The importance of self-care and managing your energy.
5. How to stand in your strength and embrace your natural ability to be powerful.
6. How to stay out of your own way by recognizing when you are sabotaging yourself.
---
Anthropology of Change – with Jenean's help you will dig beyond behavior change into the level of your beliefs. Informed by her anthropological perspectives, you will focus on the kind of energy you bring to the boundaries you set, the creativity you explore, the stuff you surround yourself with (your own artifacts!) and the daily rituals you participate in. You will learn to rewire your brain with new beliefs that support the more confident and successful version of you and how to keep cleaning your brain to allow for heightened creativity and taming overwhelm.
Journey Inward Through Movement – Shannon will guide you through daily yoga practices designed to awaken your heart fire and connect you with your elemental body. Each day will focus on a different element, connecting the microcosm of the self to the macrocosm of the universe through an intelligent sequencing of breath, movement, mantra and meditation. Steeped in Shiva Rea's system of Prana Vinyasa, our movement practices will take you on an inner journey to create spaciousness in body and mind, leaving you perfectly prepared to receive Jenean's guidance to the fullest!
Retreat Highlights: 
• Round Trip Domestic Airfare from Philip Goldston International Airport to Ambergris Caye
• Round Trip Transfer via Boat to Resort 
• Five Nights Accommodations at Las Terrazas Resort's spacious, condo-style residences 
• Breakfast and Dinner Daily
• Welcome Reception
• Twice Daily Yoga and Meditation
• Inner Life Coaching
• Snorkel Excursion to Hol Chan Marine Reserve (Belize has the second largest reef worldwide and offers first class snorkeling and diving!) 
• Daily Use of Kayaks, Paddleboards and Bikes
• Workbook to continue your journey at home
Accommodations: 
We are pleased to offer on a first come, first serve basis: 
Three Bed/ Two Bath Condo (accommodates six) 
Two Bed/ Two Bath Condo (accommodates four) 
One Bed/ Two Bath Condo (accommodates one or two) 
Pricing ranges from $2,225 – $3795 per person based on depending on condo and occupancy.  If you are a single traveler and would like to be paired with a roommate, please let us know and we will work to accommodate.  Please contact to discuss pricing and availability in detail.  
Daily Retreat Flow: 
6 – 7:45 a.m.: Coffee, Tea, Tropical Fruit, Breads 
7:45 -9:45 a.m.: Solar Yoga Practice, Meditation, Daily Intention Setting 
10:00-11:00: Brunch 
11:00-1:00: Personalized Coaching Workshop for Empowerment 
1:00-4:00: Break (enjoy lunch, pool, beach, spa, town on your own)
4:00-4:45: Lunar Yoga Practice and Meditation 
4:45-6:30: Personalized Coaching Discussion 
6:30: Dinner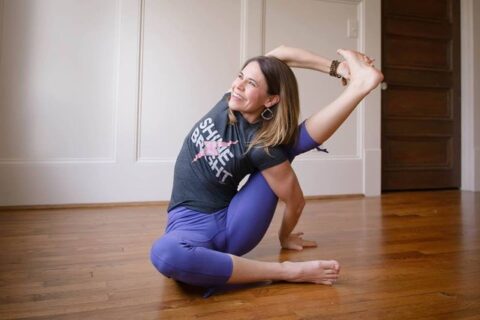 Shannon Reeder began practicing yoga in 2006, and it has been an essential part of her life ever since.
She had the honor of studying directly with Prana Vinyasa creator and curator, Shiva Rea, as well as affiliates from her Global School of Living Yoga. Shannon has taken additional trainings in Kids Yoga, Supported Yoga, Yoga for Seniors and Yoga for 12 Step Recovery.
Living and teaching in San Pedro, Belize since 2015, Shannon is excited to be a part of Rhythms of Change, a non-profit organization dedicated to promoting and implementing activities that bring forth individual, social and environmental changes throughout Belize.
Shannon is married 20 years and mom to a 12 year old Yorkshire Terrier named Stellla.
Jenean is a recent transplant to Belize and a lifetime athlete including yoga, open water swimming and snow skiing.  She is also a Sociocultural Anthropologist, Business Strategist and author and creator of Internal Alchemie: The Welcoming Abundance Blueprint and Stand In Your Strength Strategies.  She provides training to clients worldwide and is known for bringing ritual to workplace culture. She is the author of  Finding Your Lighthouse: A Leadership Guide to Navigating Change.  She is married 23 years and mother of 2 adult boys.